The iPad enables you to perform many tasks and functions by hand without being 'locked' to a computer. Hence, you become able to handle many of the pharmacy's regular workflows in an easier way, by using the app. We provide an iPad to all our partners and offer to lease more by request. 
Paperless routines    
Nomeco's iPad is a helpful tool in the daily life at the pharmacy. All employees can freely move around with the iPad, allowing them to check the deliveries, and further, quickly check today's orders and tick them off. In this way, the products can be placed immediately. Additionally, employees will be able to follow up on backorders and further acquire information about the products, which might have changed item numbers or gone into minus.
In addition, today's invoice and credit note can be managed more specifically, and thus, it becomes easier to find historical key figures and numbers that are relevant for every pharmacy. The iPad is brilliant for knowledge sharing between the main pharmacy and its other branches.
Flexible consulting 
In terms of servicing customers at the pharmacy, the iPad offers great help, since the employees are not tied directly to the computer at the counter. In this case, employees can easily stand in the shop and show pictures of the produts directly on the iPad. With the elegant swipe function, it is easier to assist the customers to find the right product and at the same time, the search function ensures a quicker and more flexible service and guidance.
Click here to see how Nomeco's iPad has been a huge help for pharmacies to save time while also providing better customer service.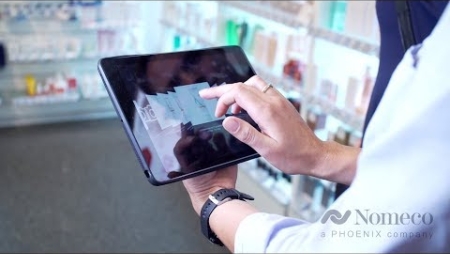 Contact 
Would you like to know more about our iPad solutions, please, do not hesitate to contact us.